The red-hot growth in home prices across the U.S. West is starting to slow in some cities as sticker shock and low inventory put off weary buyers.
Denver, Los Angeles and Austin, Texas, have seen gains in real estate values moderate after years of double-digit increases, according to Zillow. A slowdown in the tech epicenter of San Francisco is becoming even more pronounced, with the median home value in August rising less than 1 percent from a year earlier.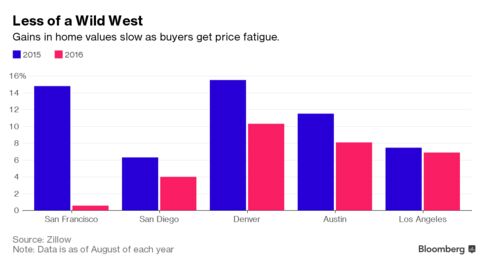 The five-year surge in real estate demand across the West is starting to take its toll in some areas as buyers become more reluctant to purchase a home that would eat up a large chunk of their monthly earnings. With job growth still robust, house hunters are pushing outward from core cities to get more for their money.
"Homebuyers are starting to see a bit of price fatigue and are starting to step back and think twice about making that purchase," said Svenja Gudell, chief economist at Seattle-based Zillow. "Prices have grown so much over the last few years as part of the recovery that many markets are well beyond their initial 2006 or 2007 peak, so homes are now more expensive than they've ever been."
Western cities have led the nation's recovery from last decade's recession with record-setting economic growth and a boom in jobs, particularly in the technology industry, leading to a surge in housing demand. In the past five years, home values have soared 71 percent in Denver, 66 percent in San Francisco and 54 percent in Austin, Zillow data show. Nationwide, the gain was 22 percent.